Acocote Drum Majorette Permit Fly Tying Instructions
Written by Rob Mukai on Apr. 01, 2017
Tags: Saltwater Fly Fishing Fly Tying Instructions Permit Fly Fly Tying
---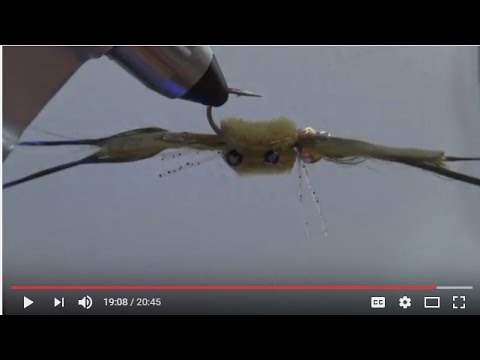 This is my first fly tying video. Click on the link to go to the video. The Acocote Drum Majorette was inspired from seeing swimming crabs in Chetumal Bay. They swim sideways with one claw dragging behind and the other folded across their face like a drum majorette doing the "bow and arrow". It has caught many permit in the Yucatan beach side flats and Chetumal Bay. Let me know when you have success with it in other places!
I tie this in four varieties: two sizes 1 and 1/0 and two colors tan and olive.
Recipe:
Hook - Gamakatsu SC-15 size 1 Gamakatsu SC-15 size 1/0

Bead - Dazl Eyes 5/32" for size 1, or Dazl Eyes 7/32" for size 1/0

Claws- Wapsi Grizzly Zonker - Yellow 2x 1.5 inch for olive, Hareline Rabbit Strips - Tan 2x 1.5 inch for tan

Body - Furry foam Light Olive or Furry Foam Cream

Pattern for Body - 50 Centavo Coin :) Approx 11/16" diameter

Trailing Claw Mono - 20 Lbs hard mono 3/4 Inch

Leading Claw Mono - 20 Lbs hard mono 3/8 Inch, 1/8" pinched and bent to 45 degree angle

Legs - 3x Sili Legs - Sand/orange-blk flake

Thread - Olive 6/0 or up to 210 denier or Tan 6/0 up to 210 Denier

Eyes - Home made with 20 lbs hard mono, black glass bead, clear cure goo see video here: https://youtu.be/FiN7VVqU0L0

Glue for claw mono - Clear Cure Goo Flex non-tacky/Solaris/Loon UV

Glue for claw - Clear Cure Goo Hydro/Loon Flow

Glue for body - Plumber's Goop Marine

Color for spots - Olive Sharpie or Tan Sharpie

Color for Claw tips - None for olive, Red Sharpie for tan
Tying Instructions:
Cover hook with thread.

Tie in Barbell eyes. Hit with super glue.

Tie in 3/4 inch mono pointing back.

Tie 1 zonker parallel to 3/4 inch mono. Wet the hair to get it out of the way.

Tie in 1 zonker just in back of the barbell eyes, at about a 30 degree angle up and away.

Tie in 3/8 inch mono on top of the front zonker.

Use Clear Cure Goo Flex/Solaris/Loon UV to glue the mono to the zonkers.

Tie in three Sili legs to the bottom of fly. Stretch the legs before tying in so they splay.

Wet ends of the zonkers with water, apply Clear Cure Goo Hydro. 10. Use a bodkin to split hair into equal parts. Make sure it is divided equally. Hit with light. Repeat for second claw.

Fold furry foam in half, hold coin on it at the fold. Cut so that you end up with an hour glass shape.

Apply Plumber's Goop to furry foam on one side.

Clip Eyes so there is about 1/4 inch of stem. Attach to glue on the inside of furry foam.

Fold furry foam over hook. Make sure that eyes are straight, and Sili legs are spread evenly. Press and hold together."

Use sharpie in appropriate color to add dots to the top of the body and inside of the claws.

On the tan version, use red sharpie to color tips of claws.
Fishing Notes:
Fish with long slow strips. Use small in shallow flats, large in deeper. Tan on sand and olive on turtle grass. Works great with bonefish too