Day Trips from Xcalak - Isla Mujeres
Written by Rob Mukai on Aug. 30, 2018
Tags: Snorkeling How to Xcalak Day-trips Getting Here Isla Mujeres Whale Sharks Manta Rays
---
Overview
Every year between May and September the whale sharks congregate near the north end of the Yucatan Penninsula. This also happens to be the time when snapper, grouper and other fish come here to do their broadcast spawning. The snapper and grouper congregate in the thousands, go to deep water, hundreds of feet down and have a fish orgy. Releasing millions upon millions of eggs and mixing it with sperm so the eggs are fertilized. So the water in the area is full of fertilized fish eggs and other plankton. The whale sharks and the manta rays know when this is happening and congregate to feed. For those of you who have watched too much "Shark Week'. Whale sharks are as big as buses, but they are plankton feeders. They filter feed the nearly microscopic life near the surface of the water. So no, you are in no danger from them or the manta rays that join them.
There is a downside to this, as the tourist trade out of Isla Mujeres and Isla Holbox send dozens of boats out to bring tourists to swim with the whale sharks. I think it is a case of loving them to death. We probably saw over 80 boats in the area where we were. And every whale shark that I saw had some scar on their back or chunks missing from their fins from their run-ins with humans and their boat propellers.
Our Visit
I have wanted to do the whale shark snorkel for a long time, and actually went to Isla Holbox last year with the intent to do a little fishing and do some swimming with the whale sharks. But we got rained out by Hurricane Harvey. This year, some repeat customers and good friends invited me along on their trip (Thanks Cory and Melissa!), so I made the run up to Cancun. Getting there is pretty easy, a quick taxi ride to the ferry at Punta Juarez which runs every 30 minutes, and 18 minutes later you are on Isla Mujeres. The round trip ferry ticket was $300 pesos (about $16-17 USD as of this writing) on the Ultramar. We met with the Keen-M crew behind the gas station. The boat was a nice 34 ft dual 225 HP which got us out to where the whale sharks were in a snap. There were only four of us so we were able to get in as much snorkeling as we wanted. Some of the other boats had 10-12 people on them. Because you can only go in 2 at a time, you will have to wait your turn.
We got a bit of a late start, so by the time we got in the area, there were a number of boats already congregated on the feeding whale sharks. First jump in, I filmed it on my gopro. You can see the videos I've posted on Acocote Eco Inn's Youtube Channel. The photos don't do it justice. You should check out the videos.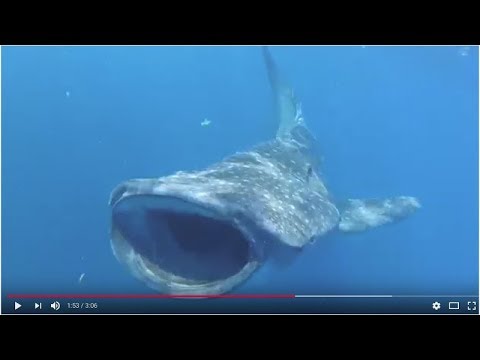 Edited Version
There is the edited short version video with music and the longer version where you don't miss much. You can see how many fish and manta rays were in the area. In some spots, it was like you didn't know where to look because they were everywhere.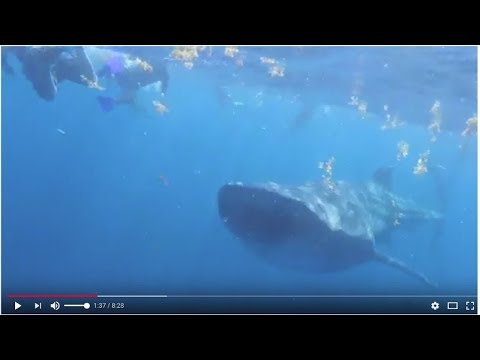 Uncut Version
Also, did I mention the whale sharks are huge. Some of their tails were taller than a person and some were longer than our 34 ft boat. They also did some interesting feeding behavior, where they went almost vertical to sip plankton near the surface.
The manta rays also did these inverted loops while feeding. Very graceful. And did I mention they are huge? It's interesting, because there was so much plankton in the water, visibility wasn't that great but you could always tell when a whale shark or manta was coming towards you because you could see the big white mouth.
Don't Miss
On the ride back, I rode on the top of the ferry, and some dude set up a microphone with his guitar and started playing all the way over to Cancun. Didn't get his name, but it was pretty good. You can hear the music on the edited version of the video on our YouTube channel.