Fly Tying Step by Step - Floating Sargasso Crab
Written by Rob Mukai on Jun. 09, 2020
Tags: Permit Fly Bonefish Fly Fly Tying Step by Step Sargasso Crab
---
This fly represents a different prey species for bonefish and permit. These crabs hang out in the sargassum that has in recent years started to impact beaches in the Carribean. Permit in particular will hang around large mats of sargassum looking for these snacks. This is a floating crab so it can be used in shallow water with spooky fish. You can check out the video on our Youtube Channel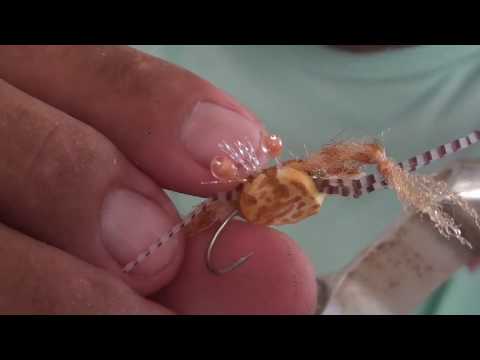 Recipe:
Hook: SC-15 size 2
Thread: 140 Denier Tan
Eyes: Tan
Mouth Parts: Pearl Crystal Flash
Legs: Chicones Crusher Legs barred brown
Claws: Knotted EP 3D Silky fiber - Sand
Body: 2MM EVA Foam - White
Color: Marigold Sharpie
Glue: Marine Goop
Tie in tan thread on SC-15 hook to about the middle of the shank.

Tie in tan eyes at the center of the shank.

Tie in knotted legs to the middle of the shank pointing back

Tie in knotted Silky Fiber claws. Tie in between the eyes. See video for how to make claws and knotted legs.

Tie in crystal flash mouth parts in the middle between the eyes.

Rough up the insides of the EVA foam, apply Marine Goop to both top and bottom and apply to the hook shank. Make sure it is centered. See below for an image to use to make a pattern.


Hold the top and bottom together with clothes pins. Let it dry over night. Check in first 10 minutes to make sure everything is still in place.

Trim crystal flash, color foam with Marigold sharpie in a mottled pattern.
Pattern for crab Body. Print this out and use the image that is approx 1" wide from point to point. The under body is basically the same shape as the top, but with the points taken off.