Fly Tying Step by Step - Sea Louse
Written by Rob Mukai on Jun. 09, 2020
Tags: Permit Fly Bonefish Fly Fly Tying Step by Step Sea Louse
---
This little fly works great for tailing bones and permit. It is small and light so it is easy to keep it out of the grass and lands softly so you don't spook the fish. You can check out the video on our Youtube Channel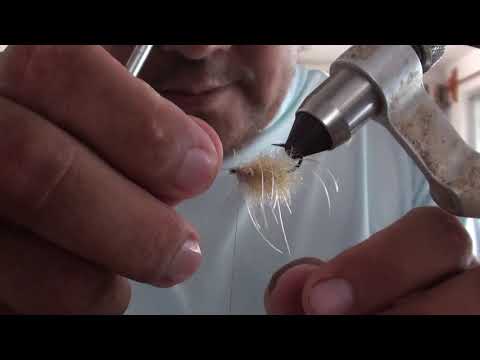 Recipe:
Hook Size 6 Gamakatsu SL-45
Weight bead chain eyes
Thread Tan 140 Denier
Body - EP Wooly Critter 0.5 Inch
Back - Pearl Tinsel or Flashabou
Tie in thread on size 6 Gamakatsu SL-45. Tie in bead chain eyes.

Tie in the Woolly Critter about 2/3 of the way down the shank

Tie in Tinsel


Palmer Woolly Critter the bead chain eyes. Take care to not trap the legs. X-wrap around the bead chain eyes, and tie off.

Rough up the Woolly Critter, free up any trapped legs

Pull all the legs to one side. Trim the body into the shape of a tic-tac. Split legs to either side. Trim legs to about 1/2 inch on either side. Tie down flash down the middle.