I just caught 52 permit and 600 bonefish in two days
Written by Rob Mukai on Jun. 08, 2017
Tags: Xcalak Saltwater Fly Fishing Permit Bonefish Bonefish and Tarpon Trust
---
Ok, sorry the title is a little click baity, but had an incredible experience over the last couple of days with Addiel Perez here in Xcalak. Addiel is a doctoral candidate at El Colegio de la Frontera Sur - Ecosur in Chetumal, Mexico. His work is to determine connectivity between the Caribbean coast and the Corozal/Chetumal Bay by bonefish migration. It will also produce insights on pre-spawning sites and local movements. The objects of his work are bonefish and permit. These are two of the most sought-after species for fly fishermen. It is important to figure out where these fish go to spawn, feed, and migrate not just so we can catch more of them, but also to help figure out how best to protect them. Addiel has been tagging bonefish for a couple of years and has tagged over 7,000. He is targeting tagging 10,000 for his project. The good news is he is working with the Bonefish and Tarpon Trust so the data can be utilized more globally as well. I was honored to be a volunteer to help him with the tagging operation in the Mexican waters for a coupe of days.
On the first day working with Ariane Romon from Ecosur, we ran into Chetumal Bay to get some bonefish to tag. But before we even got into the water, we pulled up in the truck and Addiel says, "Hey, are those permit?". Less than 10 feet off the shore, there were some large tails poking out of the water. A second look, showed us they were really large bonefish. We grabbed a seine net, encircled them, and tagged a couple of dozen 4-6 lbs bonefish.
After that, we did run into the bay. We saw a large school feeding near a beach flat. Grabbed the net encircled them, and found that it was a lot larger school than we thought. It took most of the day to tag over 520 bonefish, and released another 200 because they were too small to tag. By the time we finished, it was late afternoon and the water temps were coming up, and we decided to call it. But I touched more bonefish in one day, than I have probably touched in my whole life.
It was great, seeing the care that Addiel took in order to minimize mortality. Even after the fish were tagged, we kept them in a holding area until we had a large number to release together so they wouldn't be loner targets for the barracuda that were cruising the flats. There are possibly 3 species of bonefish in the area. We took some DNA samples for analysis. I'll update this when we get back some results.
Next day, headed up the coast to find some bonefish on the ocean side. We saw a couple of schools of permit and a school of bonefish, but couldn't get to them. In late morning, we came up on a school of permit in shallow turtle grass flats. We got the net out, encircled them. I thought there were maybe a dozen fish, but as we pulled the net tighter, it was clear we had a ton of fish. We tagged 52 permit out of that school. That was by far more permit than I've ever touched in my life. It was interesting as the fish were of various sizes, a couple as small as 18 CM, the biggest was over 50 CM to the fork. There were also permit that had really long dorsal fins, but didn't look like palometa/pompano. Definitely looked like permit, so we took some DNA samples for those. I am really interested to see the results of that one, as I have caught a couple of the smaller permit with the really long dorsal fin.
We'll have to see where these tagged fish show up again. One thing I did learn is that when you do catch a tagged fish, algae grows on the tags, so use your fingernail to scrape off the algae so you can read the number. Might just want to take a picture of the tag if you don't want to write it down, and email the tag number and location (if you have GPS coordinates that is best, otherwise you can use google earth to plot an approximate location) to addieluperez@yahoo.com.
A couple of notes, while handling a tagged bonefish that you have caught, as always, it is important to handle the fish with care. They are very delicate. Squeezing them can damage their internal organs especially around the gills. Also, while removing the algae from the tag, make sure you use both hands, hold the end that is inserted close to the skin, while you strip the algae off the tag, so you don't pull on the tag and damage bone and muscle tissue at the tagged site. And as always keep 'em wet. Finally, the tags are either white, yellow or orange, so if you get a recapture, it is pretty obvious. Click on the image below to see the video.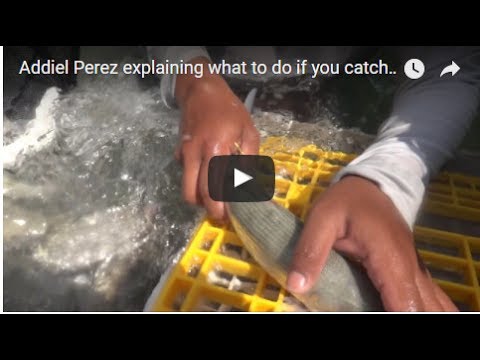 I'll update this as I hear more information, especially about the DNA testing. Thanks to Addiel and the Bonefish and Tarpon Trust for facilitating this research. If you would like more information on the tagging study, here is a Bonefish and Tarpon Trust article. There is also a drawing for reporting recaptures. As a stakeholder here in Xcalak, I love the work that they are doing to help keep Xcalak's fishery world class.
If you would like another take on the tagging operation, friend of the Inn Jason Mize wrote up his take on this project on their blog AWOL Americans