Quest for a grand slam in Xcalak - Take 4 and DIY SWFF rule number 143
Written by Rob Mukai on May. 31, 2016
Tags: Saltwater Fly Fishing DIY Grand Slam DIY Saltwater Fly Fishing
---
So the 4th attempt at the Grand Slam, was a bit of a comedy of errors. The sun was out, the tide was in, but the wind was really gusty making casting a bit of a challenge. I blew up more schools of fish, bones as well as permit, than I have in a long time. Ended up getting a bone for all that.
Also, a demonstration of
DIY Saltwater Fly Fishing Rule Number 143: When wading a flat, ALWAYS be prepared to cast.
One of the things that you learn saltwater fly fishing in a boat with a guide, is that you want to be in a ready position to cast while you are on the bow of the boat. The fish can show up close and on the move and you don't have a ton of time to make your cast. Make sure you have enough line pulled off the reel, that you are not standing on the line, that you have at least 10 -15 ft of line out the top of your rod, etc. While wading the flats, it's easy to not follow that because it is a pain to have 30-40 ft of line trailing behind you catching on floating seaweed, or coral, getting tangled, if you have too much line out the top of your rod, your fly can get caught in the turtle grass, or hooked on a rock.
I was walking the beach and saw some nervous water, and started wading out to intercept it, but I wasn't ready to cast. My line was reeled in, and the fly was hooked in a guide. When I realized that it was permit, and they were moving, I had to rush to get line out, the fly off the rod, and ready to cast. But the line wrapped around the rod tip, the fly weaved it's way through the leader and guides. It was a comedy of errors. I didn't even get a shot off at them.
A few minutes later, another school of permit shows up, I get a cast off, but it is way off the mark. A gust of wind takes it way to the right of the school. I go to pick up to cast again, and foul hook a little jack. I get the jack reeled in and released, just in time to see the school of permit swim by.
Have I mentioned that getting a grand slam is hard?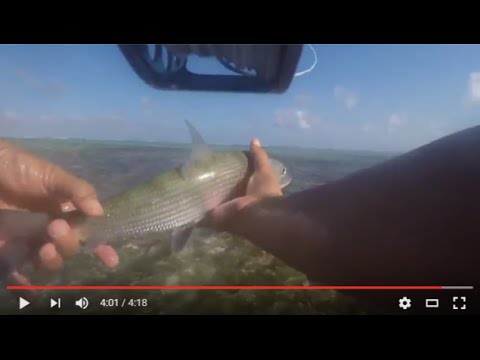 See previous posts:
Quest for a grand slam in Xcalak and DIY Saltwater Fly Fishing Rule Number 1
Quest for a grand slam in Xcalak - Take 2
Quest for a grand slam in Xcalak - Take 3
DIY Saltwater Fly Fishing Rule Number 342
DIY Saltwater Fly Fishing Rule Number 326