Tuna Fishing in the Pacific
Written by Rob Mukai on Oct. 06, 2018
Tags: Saltwater Fly Fishing Tuna Fishing
---
Overview
So this post has nothing to do with Xcalak, or fly fishing for permit or bonefish or tarpon. I was invited by a friend of the Inn to go on a 2 day tuna fishing trip out of San Diego, California. It's something I had never done, and being able to do it with fly fishing gear sounded like a fun challenge. This was a meat hunting trip, so the idea was to bring home some fresh tuna to eat. Normally being a catch and release fisherman, it felt a little weird, however, I also love sashimi, so that was part of the appeal.
Fortune
The boat was the Fortune that fishes out of Fisherman's Landing in Point Loma. It's a 65 foot boat that sleeps up to 24. Our group was 18, mostly gear fishermen, but there were 9 fly fishermen on board as well. I guess this isn't a normal trip. Most trips are usually only gear fishermen, with a few trips only fly guys. So having a boat with a split is quite unusual. But this group has been fishing together like this for years so the group all new how to handle the differences.
Getting There
The trip started out for me with a near catastrophe. I had flown from Cancun up to San Diego via Atlanta. I have a cousin who lives in San Diego and my flight arrived early enough that I had time to go grab some dinner with her before boarding the boat at 8:00 pm. My cousin picked me up at the airport and we went to a restaurant near the boat dock. When we got there I realized that I didn't have my wallet. I had lost it somewhere between the San Diego airport and the restaurant. I tried calling the airport to no avail. They suggested that I go back to the airport and see if I could find someone to help. So we bailed out of dinner and ran back to the airport. I went to Delta lost luggage and asked if they could see if my wallet was in or around my seat in the airplane. They checked and the plane had been pulled away from the gate and towed to the overnight parking area. They said that it would take a while to get someone to go over there, get in the plane and look for it. I hung around for almost an hour but they still hadn't gotten anyone out there. So my cousin and I decided to go to another restaurant to wait. We hadn't heard from Delta and it was getting time to go so as we were leaving the airport, they called and said that they had found my wallet! Yea! But that meant that I had to run to the airport to go get it. I was going to be late for the boat. After a bunch of emails calls, etc. I was able to get my wallet at the airport and arrived about 20 minutes late for the boat. Thank goodness they held it for me! But in any event, I did make it on the boat.
First Night
So the first thing I had to do was go pick a bunk. These births are a little over 6 ft long, about 2 ft wide. and 2 ft tall. Just big enough to roll over in. I was also not quite prepared for how cold it would get. Coming from the Caribbean, it was quite a shock to the system, having to wear long pants, long sleeve and a hoodie. After I registered, we were on our way, a little late but we were steaming a hundred miles south into Mexican waters in search of tuna.
I slept pretty well. The seas weren't too rough and we were in following seas as well. I was a bit worried about sea sickness being on a boat for 3 nights, but didn't have much problems. After a really nice breakfast (the food on the Fortune is really good! Thanks Paul!), we started getting rigged up as we were nearing the area that they had found fish a few days before. The rods were 10-12 wt with sinking lines. Mainly using just straight through 20 lbs. leaders. Baitfish patterns were the main fly of choice. I used a baby dorado pattern that worked really well. We also tried other patterns, but more on that in a minute.
The Fishing
One of the things they look for is what they call kelp paddies. Basically a clump of kelp that has broken off from the bottom and is floating on the surface. These paddies hold a lot of baitfish and tuna as well as Mahi Mahi/dorado are usually in the neighborhood. The method of fishing was interesting, they would troll 3 lines off the back. You would also have 3 guys with fly fishing gear on the back as well. If one of the trolled lines hooked a fish, the boat would slow to a stop, the other trolling lines would be reeled in, and while the boat was in the "slide" not under power but still moving, the fly guys would cast off the back of the deck, let the momentum of the boat pull out more line, then strip in. You could do that two or three times before the boat came to a complete stop. They would also start throwing live bait off the stern of the boat to bring the tuna in close as well. At that point the gear guys all jumped in and the fly guys moved to the starboard side of the boat. From there, the boat would be perpendicular to the wind with the wind coming on the starboard side. So the fly fishermen would roll cast a bit of line out, and because the boat was moving backwards, let line 50-60 ft of line out, and let it sink. Then strip it back. They call this a deep soak.
Day 1
So first thing in the morning we started seeing some kelp paddies, and found the first couple empty. But the third, we pulled a couple of Mahi and a few yellow fin tuna off of them. We continued to move on and came on a giant area of yellow fin tuna. And we had what they call a wide open bite. For several hours, pretty much every cast produced a 5-10 lbs. yellow fin or a skip jack. If we went more than 2 casts without a strike, we would be confused :) I got to the point, where I could just dip the fly in the water, and a tuna would come flying out of the water to nail it. We even caught a couple on a hopper pattern. Yes, an orange foam grass hopper pattern. Click below for the video. They would even eat that. I ended up keeping about 7 yellow fin, but landing over 30 (I stopped counting after that). The boat ended up limiting out that day. We also had some yellow fin sashimi and poke that was amazing! Nothing like same day fresh caught tuna sashimi.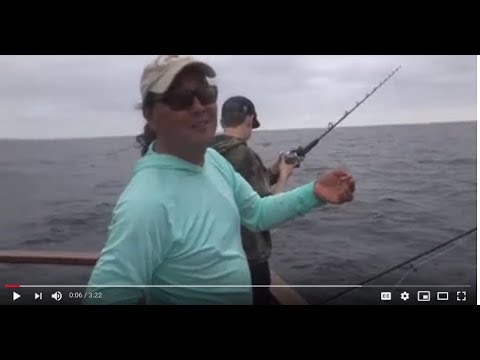 Day 2
Because we had limited out on Yellow fin, Captain Bruce decided to run to the Cortez Bank which is a submerged sea mount about 100 miles west of San Diego. So we ran from about 100 miles south of San Diego to 100 miles west of San Diego over night. There were reports of blue fin tuna in the area. The Cortez Bank is famous for its 100 ft waves. While we were there it was pretty calm. Although the over night run was a bit rough as we were going right into the swell. A couple of times in the night I kind of went a little airborne :) The second day was a lot slower. We did come on a few schools of yellow tail, and I actually had a couple on but I broke them both off. I'm guessing they were a lot bigger than the yellow fin we were catching the day before. They sure felt a lot heavier. We also found some large schools of blue fin. But they were running at a depth of 100 ft. and there is no way to get a fly down that deep. Ironically, the only blue fin caught was on the fly during the slide. It was probably in the 20 lbs neighborhood.
We fished it until dusk. Then started the run back to San Diego. We arrived back in port at about 5:00 am. Some of us had the crew fillet the tuna on board. I was taking mine back to Salt Lake City, so I used a fish processor. 5 Star Fish Processing met us at the dock, and took my fish. They filleted them, put them in vacuum packed plastic bags, put them in a Styrofoam cooler with gel packs in a box for the flight. Same day. I got them done in plenty of time for my flight.
Observations
A couple of observations. Tuna bleed. A lot. When you are keeping one, they will bring it on board with a gaff. When it hits the deck, it will be pouring blood on the deck. On top of that it will be flopping around spraying blood all over the place. The stern deck looked like a Hannibal Lecter murder scene. Probably an inch of blood flowing around. One thing I learned from the guys who do this every year. wear old dark colored clothing and rubber boots. Dark red if you have it. I was wearing a light blue sun hoodie and it pretty much got ruined. I tried soaking it in Oxyclean, hydrogen pyroxide. Still couldn't get it out.
The 5-10 lbs yellow fin, will fight really hard for a few minutes, then you can pretty much pull them right on board. The ones that I released, I just pulled 6-7 feet, up the side of the boat by hand, got them on the rail, pulled the fly out of their mouths and dropped them back in. Pro Tip, bring gloves. I cut my fingers up pretty good on the leaders trying to pull up the larger fish. Also, you can't really lip these things. They don't have big teeth, but the teeth they do have are super sharp. My thumb was all cut up from trying to lip tuna and have them thrash around a bit.
Conclusion
This was quite an experience. And I think doing it on the fly makes it a lot of fun. I guess the wide open bite that we had the first day was one for the record books. So I really lucked out with that. Also, had some absolutely delicious sashimi, made up some fish tacos. If you like fresh tuna, this stuff is amazing. As a mainly catch and release fisherman, the sheer amount of blood was a bit disconcerting, and when I go again, I will really think through the wardrobe. The food on the Fortune was delicious. They provide breakfast, lunch and dinner. Overall, a great experience, will definitely have to do it again.