Wood
Written by Leisa Mukai on Jun. 27, 2016
Tags: Acocote Eco Inn Wood
---
Update July 6, 2016 So we had the door installed on the new battery enclosure. The chakte viga is as pretty as advertised. The trim around both the door and the vent to the right are Tzalam. The vent vanes are made of sapote which is another super durable and beautiful hardwood.
So we have a number of projects here at Acocote Eco Inn that require wood for our Xcalak hotel. One thing about the Yucatan and the jungles in this part of the world is the hardwoods are spectacular. And they are really hard. Did I mention that they are hard? They are so dense most of the hardwoods here sink in water. Even Mahogany, that is used a lot here, is considered a "soft" wood.
To give you an idea of what I am talking about, here are some of the woods available here.
From the left: granadio, chakte viga, chechem, caoba (mahogany), jabim, tzalam, katalox
As I mentioned at the top, we have a number of wood projects that we want to do here at the Inn. The first, and it is completed, was to do built-in shelves in all the guest rooms. We used a beautiful wood called Katalox for those. We used "live" edges to give the shelves an organic look to them. The Corazon or "heart" of the Katalox is a deep almost purple brown.
We liked it so much, I made a desk out of it as well.
The next project was a door to keep the elements out of our new enclosure to house our new batteries.
We have decided to go with a lighter colored but super strong wood called Chakte Viga. This stuff weighs a ton, so we need to be careful we don't spec the doors too heavy or they won't hang on the hinges. It is a much lighter color but has oranges and yellows in it that match our colors. Finally we will be using Tzalam for the exterior doors to the suites here at the Inn. I'm currently working on a design that will incorporate live edge into the door, but I'm still working out the details of the design. I will update this post as we move along.
In any event, we went to a saw mill in the middle of the Yucatan to get the wood for these projects. Here is a quick video I took at the wood mill. It was a bit horrifying as to the lack of any safety equipment. No one wore ear protection for example, and the blades were all open and uncovered. Although I didn't see anyone missing limbs, and the workers there were artisans. All the adjustments were made by hand and they could eye ball most measurements accurately.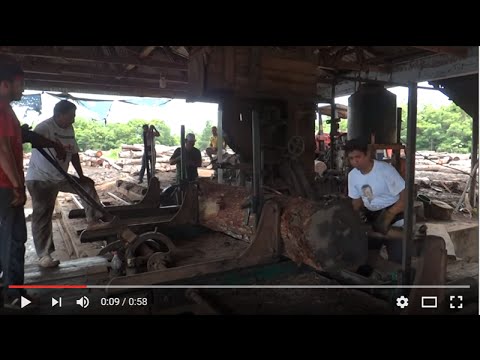 New video uploaded here, sharpening the band saw