Quest for a grand slam in Xcalak and DIY Saltwater Fly Fishing Rule Number 1
Written by Rob Mukai on May. 08, 2016
Tags:
---
We just had a guest get two DIY grand slams in 3 days. All the fish were caught near our hotel, Acocote Eco Inn, in Xcalak, Mexico. That is great for us, because there really aren't that many places you can get a flats grand slam DIY. However, I have never gotten a grand slam. I have caught all the fish (bonefish, permit, and tarpon) just not all three in one day. So as the tourist season starts to slow down and I get to sneak away from the Inn to do some fishing, I decided that I would start specifically trying for a grand slam. I have a GoPro and I will use it to film the process. I am pretty new to this GoPro thing, so the video quality will be spotty, and my editing skills are decidedly at the newbie level. But I assume I will get better as I continue on this quest.
So the first day I tried this, I only had a couple of hours to fish. I was fishing an outgoing tide and there were a bunch of clouds in the sky. So not ideal conditions, but it definitely could be worse. I made a video of the day. I could have done a clickbait headline like, I caught the bonefish on my first cast. Then saw a large school of permit. You won't believe what happened next! But you will have to watch the video to see what happens. It's almost too embarrassing to write ;) But it does lead me to Saltwater Fly Fishing Rule Number 1. So you get a two-fer.
Check out the video on youtube.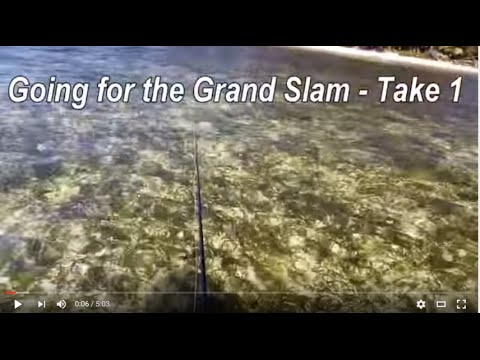 So I will be updating the blog as I go out try to get the grand slam. Hopefully I can find more time to go out fishing and also hopefully it doesn't take too long to do.
Let me know what you think in the comments section below.